ABOUT TRADE FINDRY
Pronounced Trade Find-ry, this mobile App makes finding products and finding local sources that serve the interior design community easy and convenient.
Interior Designer, Debbie English, knew there had to be an easier way to connect the many brick-and-mortar and local vendors to the home professionals and tradespeople who need their goods and services. The answer was to go mobile!
We love our local resources and vendors. Product sourcing is a big part of a design project. Sure, we can get inspiration and product information online, but we know that shopping locally whenever possible has incomparable benefits.
Finding a quality product requires us to "touch" and "feel" and get all the important information only local vendors can provide with their vast professional knowledge on the products they sell.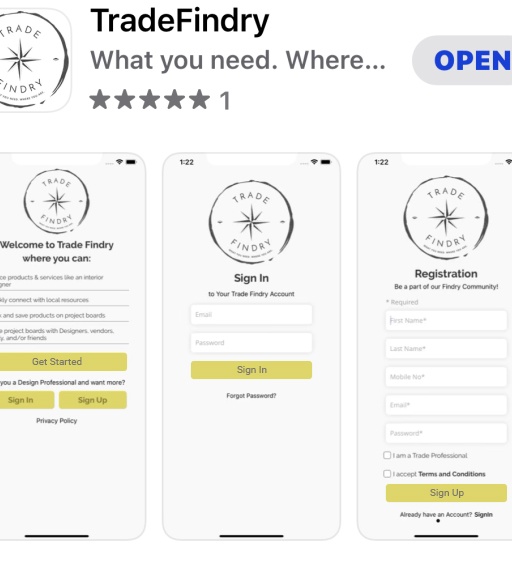 Where to Find us. We have originally launched in the Arizona, USA, but we won't stop here. We have plans to bring this fabulous mobile tool to many more cities.
If you want more information on what we have planned next or if you want to share ideas, contact us.
TRADE FINDRY is the industry-specific, location-centric mobile app that connects home product consumers with the vendors and services that help them get the job done.
For all media inquires, please contact main@tradefindry.com
If you have an Apple iPhone, you can download the TRADE FINDRY App in the iTunes App Store today and be part of this great new way to source locally:  Download Here